HVBOB Business Training Resources
While funding and profitability are the main focus for entrepreneurs, black business leaders are now spearheading a push further into both job creation and harnessing the immense buying power of the black community.
More and more black entrepreneurs start businesses that create the products and services that the black community already buys.
"We have $1.3 trillion of buying power, but we spend that money making other entrepreneurs that are not us, rich."
$1.04 billion on non-refrigerated juices and drinks
$829.8 million on detergents
$152 million on women's fragrances
$136.8 million on cookware
The best way for black-owned businesses to succeed is by supporting black-owned businesses. And while that may seem obvious, it really requires all consumers to work to seek them out.
"We do have to take the extra step," "When we look, we can find."
10 AWESOME BOOKS ON 'BLACK' ENTREPRENEURSHIP & MONEY MANAGEMENT
So what's the difference between 'white' dollar and 'black' dollar? I say none! Both dollars are green. No seriously the difference in the dollar boils down to mentality, priorities, education and training.
So without further ado I have complied a interesting list of melinated authors who have written various books about 'black' money management, business and entrepreneurship.
The numbers are not from least to greatest all experience is beneficial to learn as a collective.
1. PowerNomics : The National Plan to Empower Black America Hardcover – February, 2001 by Dr. Claud Anderson (Author)
Support Education
PowerNomics: The National Plan to Empower Black America is a five-year plan to make Black America a prosperous and empowered race that is self-sufficient and competitive as a group by the year 2005. In this book, Dr. Anderson obliterates the myths and illusions of black progress and brings together data and information from many different sources to construct a framework for solutions to the dilemma of Black America.
Get Your Copy http://amzn.to/2dbdaX5
2. Black American Money by: Dr. Boyce Watkins January 15, 2010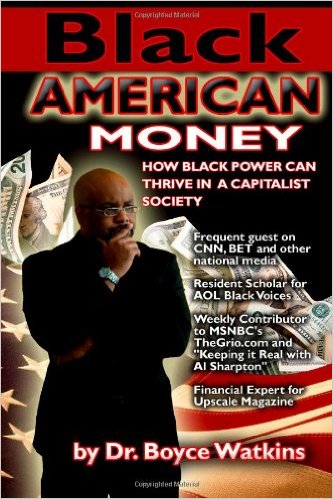 Support Education
In this book, Dr. Boyce Watkins breaks down how black power can thrive in a capitalist society. In his standard down-to-earth style, Dr. Watkins explains how capitalism works in America and why money stands in the way of true racial equality. This is a must-read for those seeking to understand the next generation in the pursuit of Civil Rights
Get Your Copy http://amzn.to/2cCvBFh
3. The Wealth Choice: Success Secrets of Black Millionaires Paperback – June 3, 2014 by Dennis Kimbro (Author)
Support Education
It's no secret that these hard times have been even harder for the Black community.
Approximately 35 percent of African Americans had no measurable assets in 2009, and 24 percent of these same households had only a motor vehicle. Dennis Kimbro, observing how the weight of the continuing housing and credit crises disproportionately impacts the African-American community, takes a sharp look at a carefully cultivated group of individuals who've scaled the heights of success and how others can emulate them. Based on a seven year study of 1,000 of the wealthiest African Americans, The Wealth Choice offers a trove of sound and surprising advice about climbing the economic ladder, even when the odds seem stacked against you. Readers will learn about how business leaders, entrepreneurs, and celebrities like Bob Johnson, Spike Lee, L. A. Reid, Herman Cain, T. D. Jakes and Tyrese Gibson found their paths to wealth; what they did or didn't learn about money early on; what they had to sacrifice to get to the top; and the role of discipline in managing their success. Through these stories, which include men and women at every stage of life and in every industry, Dennis Kimbro shows readers how to:
· Develop a wealth-generating mindset and habits
· Commit to lifelong learning
· Craft goals that match your passion
· Make short-term sacrifices for long-term gain
· Take calculated risks when opportunity presents itself
Get Your Copy http://amzn.to/2cLanE7
4. 50 Billion Dollar Boss: African American Women Sharing Stories of Success in Entrepreneurship and Leadership 1st ed. 2016 Edition
by Kathey Porter (Author), Andrea Hoffman (Author)
Support Education
For too long there have been few 'blueprints' for young women entrepreneurs – particularly African-American women entrepreneurs–to follow. While women are starting businesses in unprecedented numbers, many African-Americans are first-generation entrepreneurs, and there have been few role models for them to emulate and learn from.
The impact of African-American women in business is undeniable. According to the 2014 State of Women-Owned Businesses Report commissioned by American Express OPEN, while firms owned by women of color are smaller than non-minority women-owned businesses, their growth in numbers and economic clout is generally far outpacing that of other women-owned entities. Businesses owned by African-American women led that growth, up 296% from 1997 to 2014, generating nearly $50 billion in revenue. It is, in a sense, a second Black Renaissance, creating what we like to call the '50 Billion Dollar Boss.'
African-American women continue to excel and shape society across industries. This book highlights several African American women entrepreneurs and leaders, recognizes them for their business acumen, examines how they creatively solved business challenges and identified opportunities to grow and sustain their businesses.
Get Your Copy http://amzn.to/2d66iOZ
5. DIGITALNOMICS – Walk Away Wealth Systems: How to Create Wealth Out of Thin Air Using Your Mind, Melanin and Smart Phone Kindle Edition
by Philippe Shock Matthews (Author)
Support Education
Master Teacher, Kaba Hiawatha Kamene says, "I think of Philippe SHOCK Matthews as being the Marcus Garvey of the present day. DigitalNomics takes us to the point where we now have the ability to be in control of our own destiny."
DigitalNomics is the first book of its kind that teaches Melinated people how to truly become frequency specific to their unique manifestation vibration of the Pyramid builders, by showing them how to use their Melinated mind and Pineal Gland to unlock unlimited wealth and prosperity using information marketing and their smartphone.
DigitalNomics is the ultimate system on how to create what I have coined as WAWS (Walk Away Wealth Systems) by using the digital currency of the internet known as INTELLECTUAL PROPERTY.
The Melinated reader will learn how to raise their frequency to bypass institutionalized racism, daily racial stress, academic castration and economic strife that is germane to Melinated Americans. You will discover how to use your mind or the minds of others to create unlimited sources of prosperity using information marketing technology and systems that can be activated simply by using your smartphone or tablet.
Get Your Copy http://amzn.to/2cD79GO
6. Financial Lovemaking 101: Merging Assets With Your Partner in Ways That Feel Good Paperback – April 4, 2007
by Dr. Boyce Watkins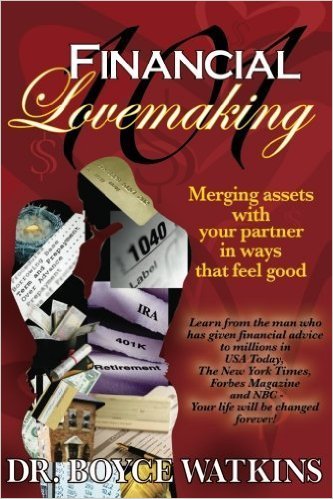 Support Education
You can think of the Financial Lovemaking system as the "Kama Sutra of Money Management". It teaches you the ins and outs of the financial lovemaking process, and how your financial choices can serve to stimulate and strengthen your relationship, rather than destroy it. Millions of couples are now making good, satisfying financial love, while there are many couples allowing money to destroy their lives. Anyone who has been in a relationship knows that making love is an active, assertive and continuous process. It involves providing comfort, pleasure, joy and security for the person you love the most. Money is a fundamental component of emotional security, so it is only logical that financial lovemaking be a critical component of any relationship.
Get Your Copy http://amzn.to/2d63npz
7. The Power of Broke: How Empty Pockets, a Tight Budget, and a Hunger for Success Can Become Your Greatest Competitive Advantage Hardcover – January 19, 2016
by Daymond John (Author), Daniel Paisner (Author)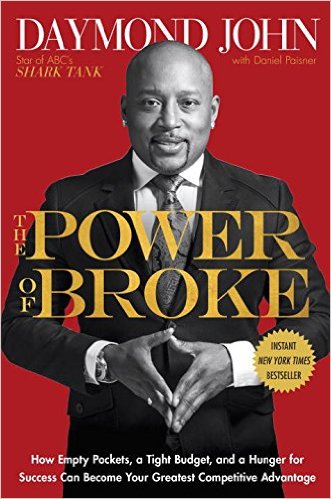 Support Education
Daymond John has been practicing the power of broke ever since he started selling his home-sewn t-shirts on the streets of Queens. With no funding and a $40 budget, Daymond had to come up with out-of-the box ways to promote his products. Luckily, desperation breeds innovation, and so he hatched an idea for a creative campaign that eventually launched the FUBU brand into a $6 billion dollar global phenomenon. But it might not have happened if he hadn't started out broke – with nothing but a heart full of hope and a ferocious drive to succeed by any means possible.
Get Your Copy http://amzn.to/2dbdHIG
8. Black Business Secrets: 500 Tips, Strategies, and Resources for the African American Entrepreneur Paperback – November 15, 2010
by Dante Lee (Author)
"Should I lower my price point? Give my new product away for free online? How do I compete when my goods, services, or business model might be duplicated? In this candid, 21st-century-savvy guide, Dante Lee illustrates how passion can become profit by addressing the questions that every businessperson needs to ask. Black Business Secrets discusses the entrepreneurial skills that African-American business owners must master in order to compete in a world where most new companies fail within three years. Whether you're a weekend entrepreneur or a career-changing professional, Lee's motto "don't be a worrier, be a warrior" – applies. From personal branding to best practices, this empowering blueprint offers surefire tips and strategies designed to ensure business survival and success.
Get Your Copy http://amzn.to/2de6la2
9. Black Titan: A.G. Gaston and the Making of a Black American Millionaire
by Carol Jenkins (Author), Elizabeth Gardner Hines (Author)
Support Education
The grandson of slaves, born into poverty in 1892 in the Deep South, A. G. Gaston died more than a century later with a fortune worth well over $130 million and a business empire spanning communications, real estate, and insurance. Gaston was, by any measure, a heroic figure whose wealth and influence bore comparison to J. P. Morgan and Andrew Carnegie. Here, for the first time, is the story of the life of this extraordinary pioneer, told by his niece and grandniece, the award-winning television journalist Carol Jenkins and her daughter Elizabeth Gardner Hines.
Born at a time when the bitter legacy of slavery and Reconstruction still poisoned the lives of black Americans, Gaston was determined to make a difference for himself and his people. His first job, after serving in the celebrated all-black regiment during World War I, bound him to the near-slavery of an Alabama coal mine—but even here Gaston saw not only hope but opportunity. He launched a business selling lunches to fellow miners, soon established a rudimentary bank—and from then on there was no stopping him. A kind of black Horatio Alger, Gaston let a single, powerful question be his guide: What do our people need now? His success flowed from an uncanny genius for knowing the answer.
Get Your Copy http://amzn.to/2cD4ddr
10. Market Women: Black Women Entrepreneurs: Past, Present, and Future
by Cheryl A. Smith (Author)
Support Education
In stark contrast to popular belief, women of the African Diaspora have engaged in economic and leadership activities throughout the course of history. Black women around the world draw from a tradition of thousands of years of strategies that have enabled them to face and conquer the challenges of life as women of color. And yet today, black women are marginalized by an economic and financial community still dominated by white men. In Market Women, educator, activist, and entrepreneur Cheryl Smith sets the record straight, applying insights from a variety of fields to trace the roots of black women's entrepreneurship, as it is currently practiced in the United States.
Featuring in-depth interviews with 19 present-day entrepreneurs (in ventures as diverse as catering, bookselling, millinery, and construction), Smith reveals an approach to business that is based on personal relationships, pooling of resources, a sense of humor, apprenticeship and mentoring, and strong mother-daughter bonds that defy traditional definitions of business success, wealth creation, and power. In the process she gives voice to a long-disenfranchised group whose struggles and triumphs in business illuminate universal themes that transcend race and gender. The result is a rich and unique study of business from a fresh and eye-opening perspective and an inspiring account of achieving success against tremendous odds.
Get Your Copy http://amzn.to/2cCBUsd